JT14-03 mdf top commercial dining tables in dining room from JL&C luxury furniture lastest designs
JT14-03 mdf top commercial dining tables in dining room from JL&C luxury furniture lastest designs (China supplier)
JT14-03 mdf top commercial dining tables in dining room from JL&C luxury furniture lastest designs(China supplier)
Name
Material
size
volume
JT14-03 dining table
seat:silver leaf+crystal+stainless steel
panel:dark piano golden grain(O29)


1832*1172*750H
2.1
Breif introduction of the crystal series from JL&C luxury home furniture
Crystal series furniture is the star products of JLC brand, the feature is combined the atmosphere, fashion, luxury within themself. Inspired by the bright light crystal light refraction,use the mirror stainless steel as a framework , mosaic crystal glass , hand-carved crystal glass pressed with gold leaf or silver leaf finishes on board , gold or silver reflects the light and mirror with each other refraction of light steel , combined with imported Italian leather crocodile pattern , making the entire range of products under the brilliant light and luxurious .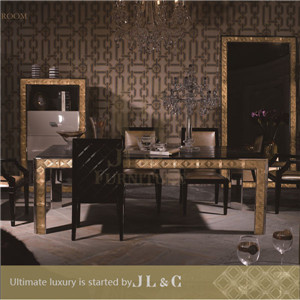 The mainly products from JL&C luxury home Furniture:
1).Bedroom sets: including Bed, nightstand, dresser, chest of drawers, mirror, wardrobe, Bucket cabinet etc.
2).Dining room sets: including dining table, dining chair, Cupboard etc.
3).Living room sets: including sofa, ottoman, stool, TV cabinet, glare table, glare mirror, Tea table, coffee table, sideboard etc.
4). Study room sets: desk, chair, bookshelf etc.
5). Other related home furniture: bar counter, bar chair, barstool etc.
The material of our products from luxury home furniture:
| | |
| --- | --- |
| Packaging Details: | Standard export package |
| Delivery Details: | 40days |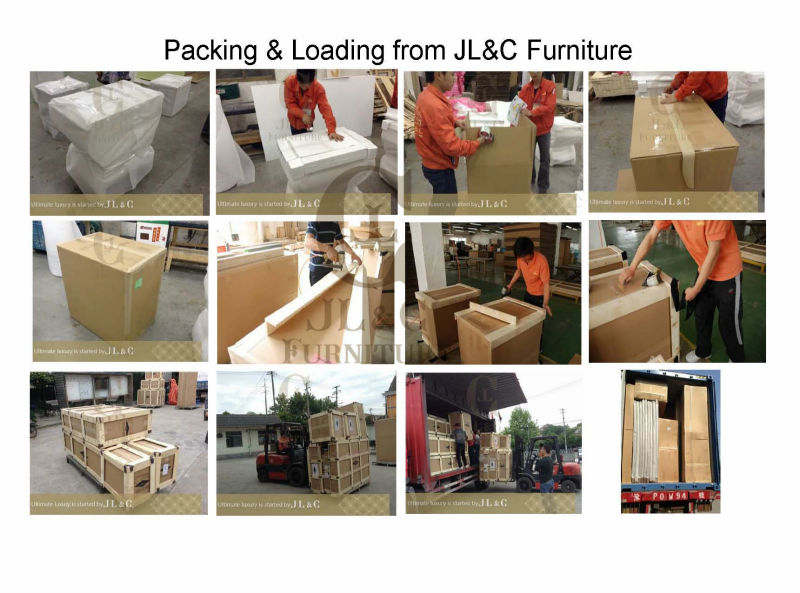 Our customers come form all over the world and satisfacte with not only the quality of our products but also our service to them.The company enjoy the high reputation in this field. The prizes or certifications we have got as follow: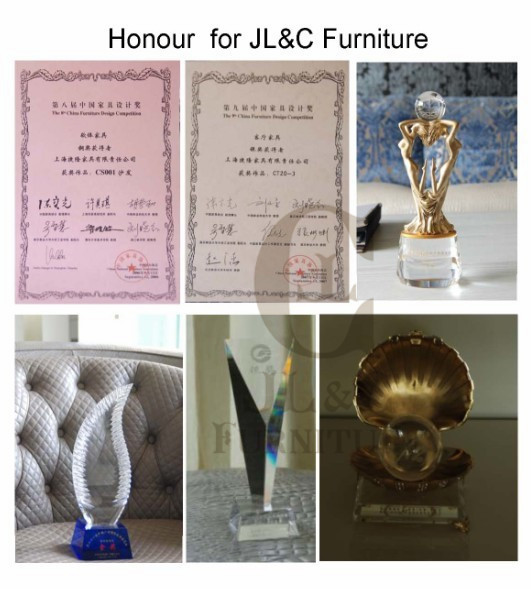 Advantage of JL&C luxury home furniture

1.19 years innovation and improvement on high-end furniture industry.
2.up-to-date on the hottest fashion design
3.OEM service available
The preexistence of JL&C Furniture is Taiwan MIHO Company, which is established in 1991. We have been dedicated to high-end home and hotel furniture designing, manufacturing and marketing for more than 15 years. At first, we focus on mainly Taiwan market. Three years later, we started export business through cooperation with a Germany furniture company. As the market demand is growing rapidly, the founder Mr. MING HE CHEN set up our design center and factory in Shanghai. He works as our design supervisor and commits himself to the pursuits of perfect furniture creation and production. Till now,Our products have bed, bedside, cupboard, Dresser, Dressing mirror, Bucket cabinet, Wardrobe, sofa, Ottoman, Cupboard wall unit for flat, Glare table, Glare mirror, TV cabinet, Tea table, Divan, Dining chair, Cupboard, Bookshelf, Built-in kitchen, desk, chair etc. our products have been exported to more than 20 countries, such as North America, Western Europe, Southeast Asia, Australia and Dubai, etc. The products have been awarded broad trust and recognition by the clients all over the world.

Personalized design, exquisite craftsman, trustworthy & efficient customer
service is implemented by every JLC staff. With our furniture, you will enjoy
the exalted, comfortable and snug living space deserved to a successful man.


The mainly products include:bedroomsets like Bed,nightstand,dresser,chest of drawers,mirror,wardrobe,Bucket cabinet etc.;the dining room furnitures include:dining table,dining chair,Cupboard;Living room sets are include:sofa,ottoman,TV cabinet,glare table,glare mirror,Tea table,coffee table,etc.the home office furniture series include desk,chair,and bookshelf.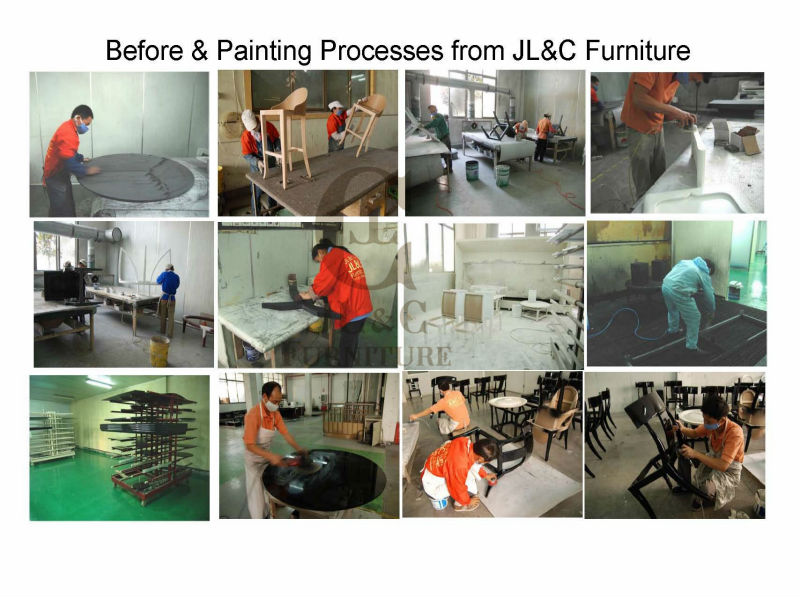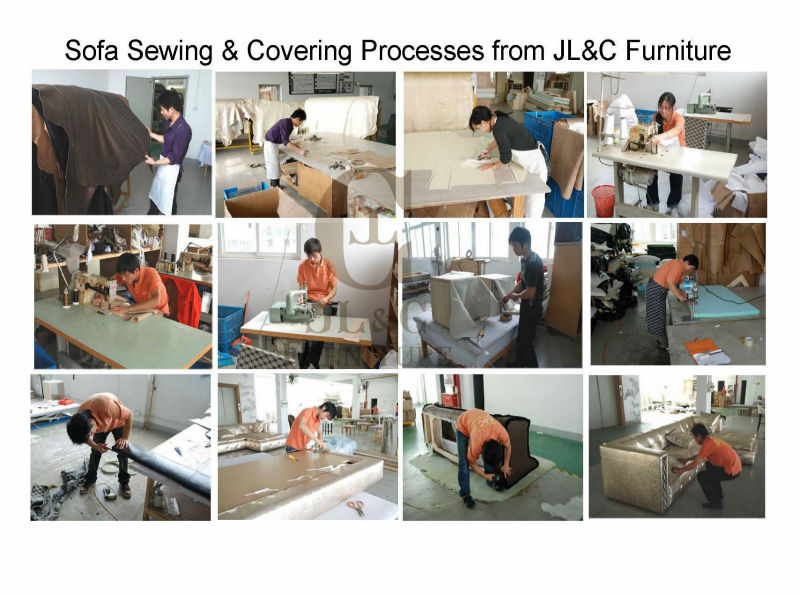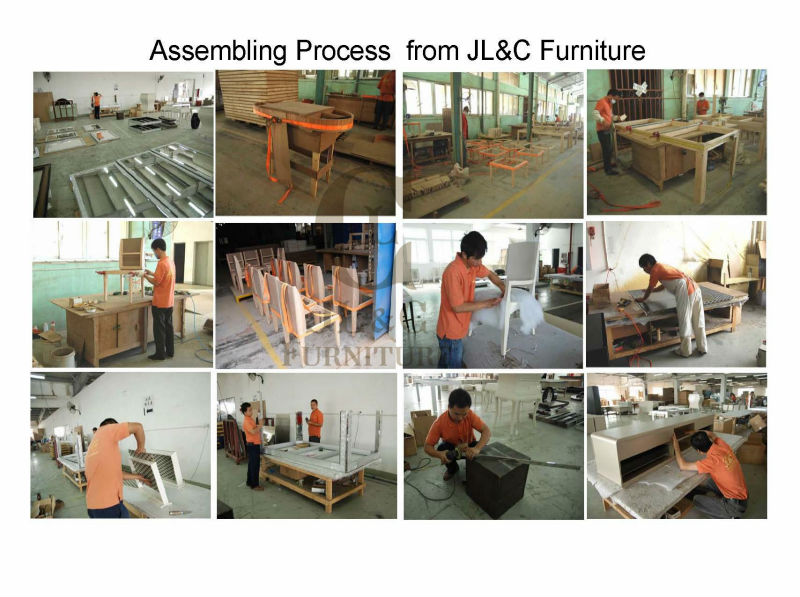 JL&C Furniture FAQ:
Q1: Is JL&C Furniture a manufacturer or trading company?
A1: JL&C furniture is one of the professional manufacturer for designing and producing extreme luxury neoclassic home furniture and home decorations in Shanghai, China for more than 20 years.
Q2: What is the style of JL&C Furniture?
A2: JL&C Furniture belongs to neoclassic and post-modernism style.
Q3: What kinds of leather use for sofa?
A3: Most of JL&C Furniture sofas use the high quality top grain oxhide with thickness of 1.4-1.6mm, some high quality cloth is also available.
Q4: What is the lead time?
A4: 45 days in normal season, 60 days for customized producing or in peak season.
Q5: Where is your Loading Port?
A5: Shanghai, China.