Standard size for military coins are 38mm/ 42mm/ 45mm & 50mm
Custom size is welcome.

Product Description
* Products detail is below . -------------- Please send inquiry for more details!! --------------
Product

Imitation Hard Enamel Coins / Soft Enamel Coins / Zinc Alloy Coins / Mirror Effect

Logo

Custom logos welcome only.

Size

Standard size for military coins are 38mm/ 42mm/ 45mm & 50mm

Standard thickness is 3mm ~3.5mm (Only 50mm coins with thickness of 3.5mm)

MOQ

100 pcs, low MOQ

Detail

a. These coins are made of die struck brass with imitation hard enamel / soft enamel colors.

b. All the coins with 3 sides polishing (Front/ Back and Edge)

Bright finishing or antique finishing are all applicable.

c. The border can be made with 9 different patterns of diamond cut.

If you need various numbers made on the coins, we can laser engraving numbers.

Soft Enamel Coins

Ribbed edge, Lathe edge and imprint text edge are available as well for your options.
Epoxy cover on one side or on both sides are available
The partial area with epoxy is not workable, must be renegotiated before the start.

Zinc Alloy Coins

1. These coins are made of zinc alloy (die casting) with soft enamel or Imitation hard enamel colors.

2. Zinc alloy is lighter than brass material, some customers prefer to make thicker coins to reach the same weight of brass coins.

3. Compared with die struck brass coins, zinc alloy coins are cheaper in unit price but more expensive in mold fee.

4. Delivery time for zinc alloy coins needs more days (5~7 days) for production.

5. If you need 3D cubic designs more relief, choose zinc alloy material because there is always limits for die struck brass coins.

6. If you coins with open areas, free for cut die charge because items are cast.

Mirror Effect

1. Commonly used material is brass.

2. Mirror effective coins usually without any colors filled.
3. Finishing must be bright gold, silver, nickel, or copper plated.
4. Antique finishing, matte finishing or satin finishing are not suitable for the mirror effect.

Packing method

1pc/opp, suitable quantity into master carton. Or to your advice.

Delivery

Fast delivery. According to the sizes and quantities

Origin

Made in China

Usage

promotion, advertisement,...etc.
Other sample photos as below:
*Images are for demonstrations only, not for sale
Disclaimer: The pictures relevant to this product have been provided for reference only. We do not have any intellectual property rights over the trademark(s) displayed, and are not selling any products containing this/these marks.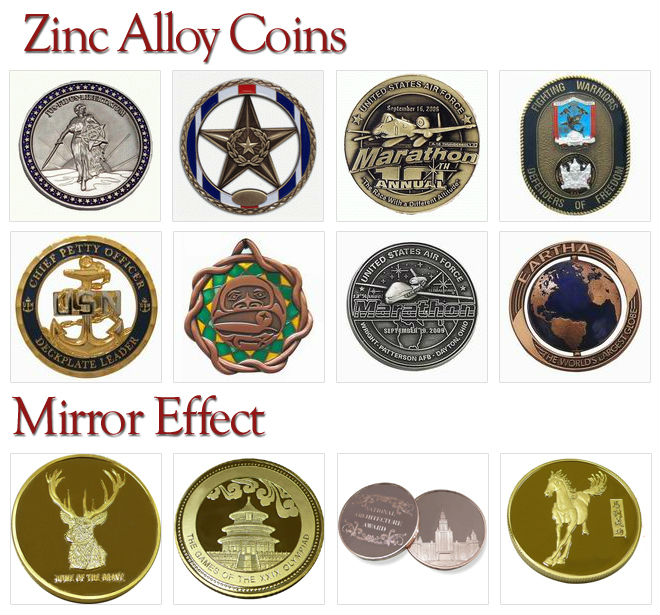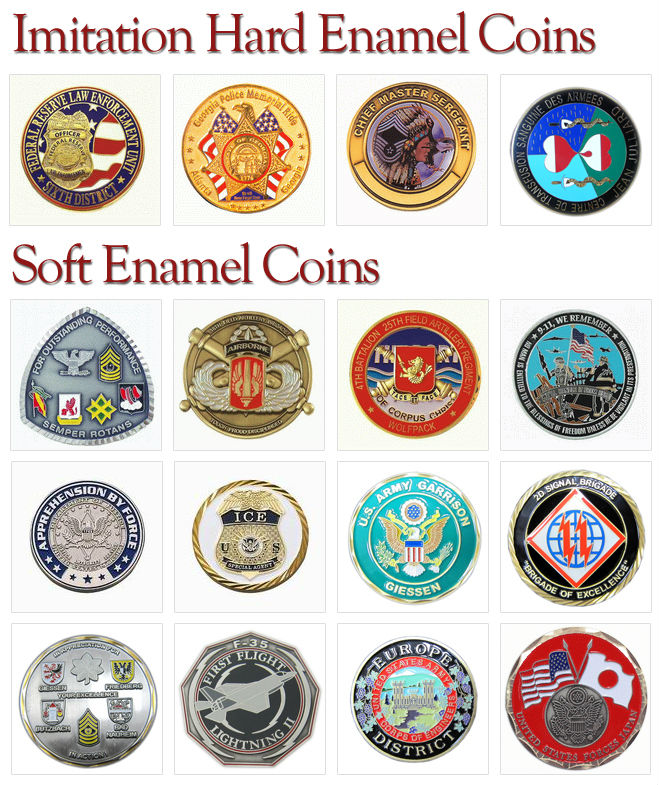 Company Information
Our Services
1) Design : Custom made is the spirit of our product lines, we are good at converting customers' designs to physical items. If there is technical problem to transform it, we will recommend available solutions.
2) Techniques : Our production is in compliance with the requirements of lead contents regulated by CPSIA. We provide various content test reports concerning our raw materials.
3) Price : Our new factory in Jiangxi Province will start running and manufacturing products in late of 2012. It will efficiently empower us to offer our customers the best price and speedy delivery.
4) Others: We continually invest large sums of money to purchase auto and semi-auto machines to cope with increasing labor cost and to insure the quality of our products.
Our raw materials meet the standards of the lead contents regulated by the CPSIA and the regulations of RoHS.
Accept custom designed orders only, there are no open designs to choose from, no stocks or over run items for sale either, everything must be your own logo or designs.
As long as you can offer the SIZE/ QUANTITY/ COLORS/ PICTURE OF YOUR DESIGN and state clearly the finishing, attachments, colors...etc., then we can quote you the competitive prices or give you some advices if we can't make it as your request. Looking forward to receiving your specific inquiries.